Blackstone
Regular price
$499.99
Sale price
$450.00
Unit price
per
Sale
Sold out
As outdoor enthusiasts & founders of Blackstone we dreamed of a quality outdoor griddle &/or grill that could cook for large groups & families. In 2005 we made our vision a reality by creating Blackstone products. We then Launched the 36" Blackstone griddle that is still popular for backyard cooking & which brings families & friends together for fun & food. Our spectrum of gas griddles & gas grills are popular for backyard living, a BBQ, Recreational cooking or commercial grade cooking. Since then, the company has expanded dramatically & created a brand new look as well as a large new line of durable rugged innovative & portable cooking innovations including an outdoor pizza oven & the Ever so easy to transport & set-up dash – & Our products will last a lifetime. By using the latest technologies available & complementing them with our own innovations, we feel we have the leading edge on the market in our categories. Our products are designed & engineered in the USA by people who are avid users & live to entertain outside – at home, in the Tailgater parking lot or just about anywhere. We pride ourselves on the quality of our products & how well they function while keeping the prices very affordable. We have assembled a strong & enthusiastic team with the utmost passion for Blackstone & outdoor cooking including excellent engineers, intelligent industrial designers & uniquely creative graphic artists. We have the capability to make any adjustments to our current lines or create new units all together, tailored around your needs in a very short time in contrast to our larger entrenched old-school competitors. So look forward to future innovations from Blackstone sooner than later. We are more than just another outdoor cooking appliance Company that only focuses on the numbers & overlooks the end users by neglecting quality or deferring to accountants. We are here to stay & hope you enjoy Blackstone products as much as we do. Fits 16 Steaks and Fits 72 Hot Dogs.
Box Dimensions: 39.76" L x 14.37" H x 25.6" W
The Ultimate Griddle Experience
Replace Your Standard Grill
Replace your grill or BBQ with a Blackstone griddle and never look back! This grill is simple to use and easy to assemble, so you'll be cooking in no time. Eliminate the hassle of kerosene, charcoal and matches; This grill includes an easy start, battery powered push button ignition. With the simple push of a button your griddle is ready to go! Take the headache away from outdoor cooking and spend more time enjoying the outdoors.
Adjustable Heat-Zones
4 Adjustable heat zones makes for a versatile cooking surface where you can cook several foods at once and not burn a thing! Also allowing the option to keep certain foods warm while others cook.
Expansive Cooktop
A cooktop big enough for parties or catering events! That said, the 4 adjustable burners make it possible to use just one or two burners when cooking for a single person.
Cook Tasty Juicy Burgers
It's often thought that standard grills and barbecues make the best hamburgers. Blackstone believes just the opposite and once you use a Blackstone griddle you will be a believer from your first bite.
Cook Steak and Other Meats 
Griddles aren't just for breakfast foods and stir-fry! Cook everything from steak to chicken and fish to vegetables. When cooking on this flat top not only do you retain all the flavor and juices in your food but you can still get that sought after crisp wherever preferred.
Cook Small or Cook Big
Whether you are cooking for your family or the whole neighborhood, this griddle has you covered. 4 solid stainless steel burners allow you to set 4 different cooking zones. Ultimate versatility to cook any meal you desire.
Get Started Quickly
No fuss ignition. Electric push button igniter for a fast start every time.
Secure Footing
Four industrial strength, caster wheels provide easy movement from place to place. When you have it where you want it, lock the two locking caster to keep it in place.
Share
View full details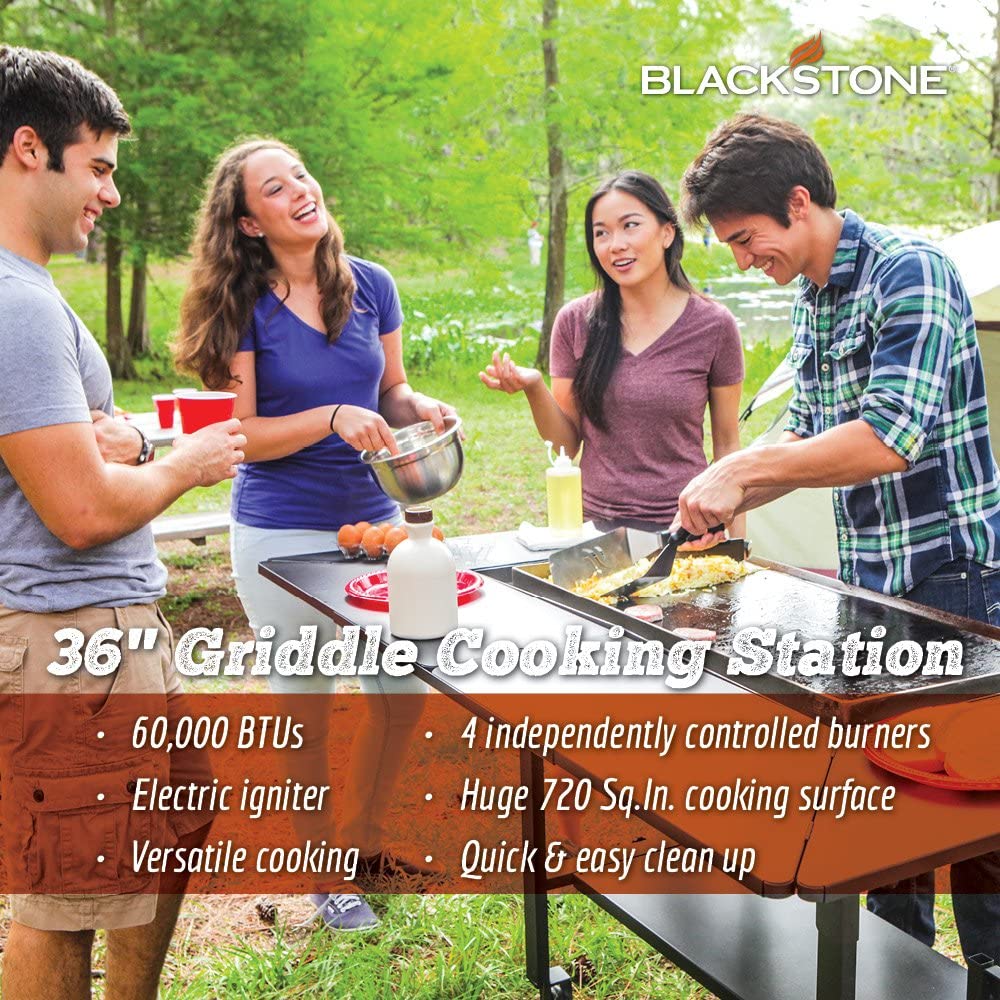 General FAQ
Shipping

All items are shipped with in 3-5 budiness days.
Carriers

We use following carrier for shipping items.

UPS
FedeX
USPS
Amazon Logistics
Returns

All item can be reutrn with in 30 days of order. Refund will be issued once we recieve the item and check the condition of it. If the item is not same as sent we are not liable to offer complete or any refund.